DERMS Benefits
Reduced Costs
Wave® gives utilities a powerful tool to leverage the capabilities of DER to meet a variety of economic objectives including Peak Load Reduction, Deferred Infrastructure Investment, and Grid Generation Optimization.
Rapid Installation
Wave streamlines design and configuration of assets with automatic code generation and software deployment, standardized field engineering and end-to-end system commissioning.
Flexible and Scalable
Wave interoperates with existing SCADA and DMS systems and can be configured to systems of any size. Its flexible and scalable architecture allows assets to be easily added, removed or changed. Wave® Apps allow functionality to be extended incrementally.
---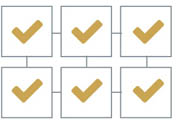 Optimization
Wave allows users to dynamically set asset constraints, system constraints and system objectives and capabilities and convert them into desired outcomes.
New Business Models
Wave can be customized with proprietary business intelligence via its adaptable Application Programming Interface and serve as a scalable service delivery platform.
Interoperable
Wave uses open communications with standard protocols, Active Directory based access control, and ensures interoperability with portfolios of DER.